Get your content posted on the world's biggest video platform!
YouTube boasts quite a large audience! And RedCircle makes it possible for you to bring your content directly to them with ease.
Before we begin, it's important to ensure you have created a YouTube channel and have verified that channel. If you don't have a YouTube channel yet, then follow this link to create one. Make sure you're logged in to the correct Google account when you create your channel.
YouTube won't allow you to upload more than 15 minutes' worth of videos until you verified your account with them. Follow this link to verify your channel. As always, be sure you're logged in to the correct Google account!
Note: RedCircle's automated YouTube publishing is only available to those on the Pro or Enterprise plans.

Connecting Your YouTube Account to RedCircle
Uploading & Publishing Your Video
Additional Questions
---
Connecting Your YouTube Account to RedCircle
You can connect your YouTube account to your podcast through our Distribution page. Simply click on your podcast and then select Distribution from the list of options:
From the Distribution page, click on the arrow next to YouTube and then click on the Connect Your Youtube button:
Note that there is a current bug that states you need 1,000 weekly downloads in order to generate videos and publish them automatically. This is untrue for accounts on the Pro Plan or higher.
Go through Google's Authorization flow to connect your account to RedCircle. Congrats! Your show should now be connected!
---
Uploading & Publishing Your Video
You can now begin publishing new video versions of your podcast to YouTube!
Depending on your account plan, you can either generate a video to manually upload to YouTube or generate a video and have it automatically published for you. You should see a checkbox that either says "Generate Video File" or "Publish to YouTube" depending on your plan.
Above image is an example of an account on the Growth Plan
Above image is an example of the Pro/Enterprise Plans
If you're unable to automatically upload your episode to YouTube, then you can find the link for the video on your episode's page:
---
Additional Questions
What does the video look like?
Excellent question! The generated video is a waveform of the audio with your podcast artwork overlayed on the top, like so: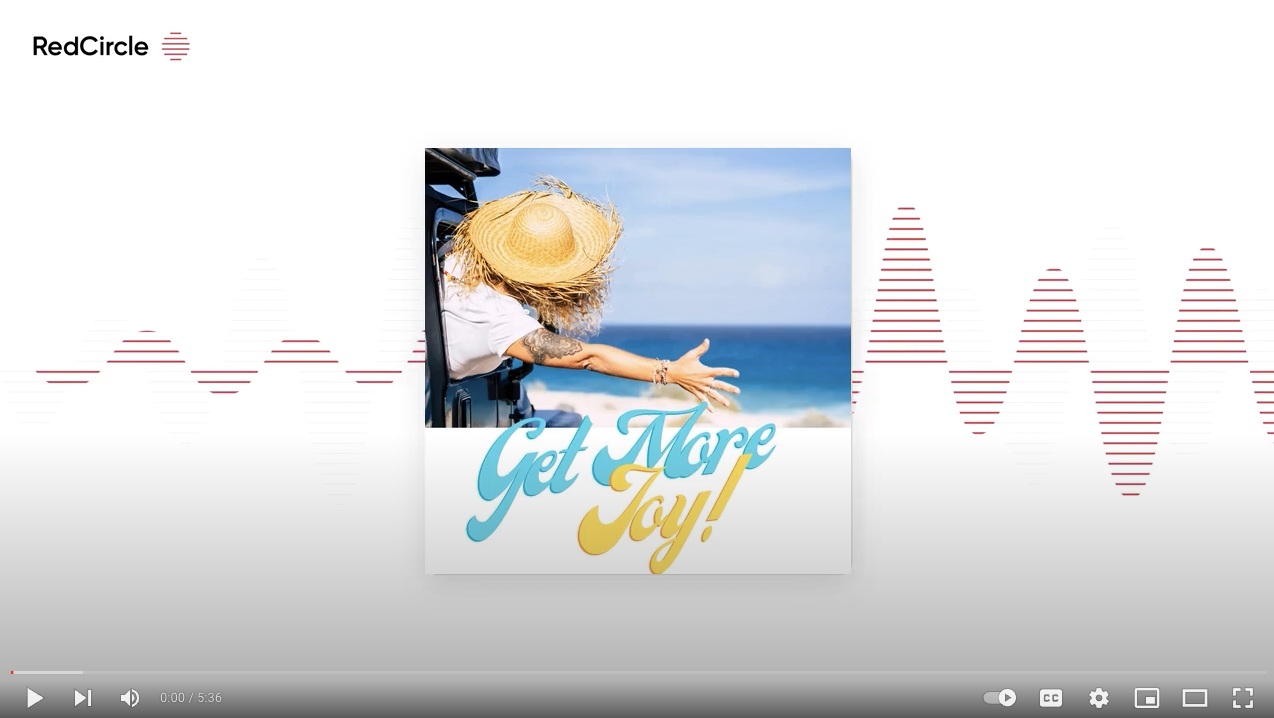 My episode is published but I don't see the video yet. What's going on?
It can sometimes take 1-2 hours to generate the video depending on the length of your episode. Check in with RedCircle Support if you're still waiting for the video after a few hours.
Can I upload my past episodes?
Google places a limit on the number of videos we can upload each day, so it's not possible to create videos for your back catalog of episodes. We're brainstorming solutions to allow for this possibility. Stay tuned!
Why did I get an error message that says "rate limit exceeded"?
YouTube sets a per-channel limit on their API, so we can't upload more than a few episodes every 24-hour period. We'd love to do them all, but unfortunately, this is a restriction that comes directly from Google.
I deleted the video for my episode. Can I get it back?
Yep! You can regenerate a video for any episode. Follow the steps below to create a new video:
Navigate to the episode's page on your RedCircle account and click on the three dots (...) next to the episode's title
Select Regenerate Video from the drop-down list that appears
That's it! It may take a couple of hours for the video to generate depending on the length of your episode. Once generated, you should see "YouTube Video" on the episode's page.