It's time to upload your Ad Read and run the campaign!
The script has arrived! It's time to give it a read and record that stellar audio. You should receive an email notification when the script is available on your Ad Platform page (and if the script gets updated later, you'll get a notification email then too.) You're required to upload the audio no later than 3 days prior to the start of the campaign. The earlier you get it recorded and uploaded, the better!
In many cases, advertisers listen to your ad reads and may notify you of any issues (mis-pronouncing a brand name, incorrect promo code, etc.) to be fixed before the campaign starts. The earlier you upload your read, the more time there is to make sure everything is in order for the campaign to start. If you miss the audio upload deadline, RedCircle cannot guarantee that you'll still be able to participate in the campaign.
You should receive email reminders 72 and 24 hours before the deadline. We strongly recommend that you add your mobile number to your RedCircle account, so that you also get text reminders plus an additional text reminder 4 hours before the audio upload deadline.
To view the script and/or upload the audio, navigate to the campaign's page on your RAP Campaign Dashboard and click on the red View Script & Upload Audio button. You may also see a red dot on the Ad Audio tab of the campaign. This means that the script is ready and we're waiting for you to upload the audio.
All of the necessary information including the script/talking points, promo code (if required), and any additional notes are present on the Upload & Submit Advertisement screen. All you need to do to upload is click the red Choose a file to upload button (just like for your episodes!) You can also add your unique promo code to your show notes across all eligible episodes.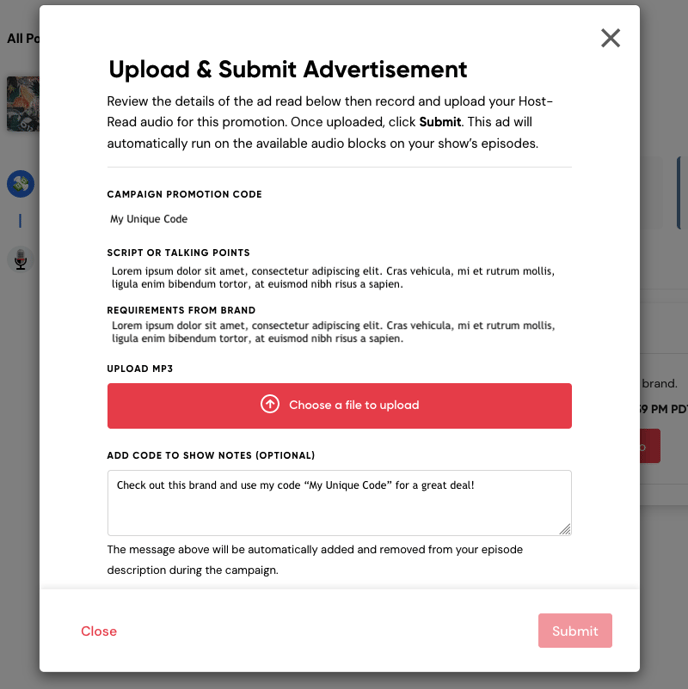 You have the chance to listen to the audio right after uploading. Simply click the play button to give it a listen. If you're satisfied with the ad read, then go ahead and click the red Submit button to save and send.
You should see a confirmation screen directly after clicking the submit button. You'll see a different confirmation screen depending on whether or not the advertiser bought time on one of your episodes or only a specific time frame.
And that's it! Now all that's left is for the advertiser to approve the Ad Read and for the campaign to officially start. Curious about what to expect during the campaign? See this Help article for more details.
---
Need some advice on how to knock your ad read out of the park? Check out these helpful tips: