Set up your bank account connection so you can start earning money ASAP
RedCircle offers a multitude of ways to earn money through features like RAP (advertising), Exclusive Content, and Donations. All revenue earned is paid out to your bank account connected through our payments partner, Stripe.
Before we get started, it's important to ensure that you're eligible to sign up with Stripe. Check out this Help article to determine whether or not Stripe Express Accounts are available in your region.
---
The first step to creating a connection between RedCircle and your bank is to navigate to the Money page. From there, click on the blue Connect with Stripe button near the top left side of the page: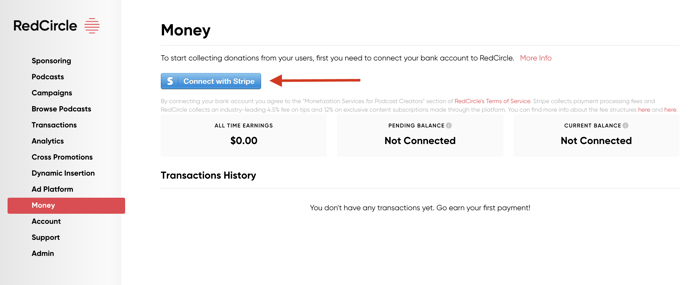 You should wind up on a page that looks just like this:
Simply click the Continue button and follow the on-screen instructions.
Even if signing up as a business (LLC or equivalent), you will still be required to enter personal information, such as a Social Security Number, of the account owner.
For any questions regarding Stripe Express Accounts, we recommend visiting their Help Center or contacting their Support team.
---
Your Money page should appear as such after successfully connecting Stripe:
Return to this page to keep track of your various earnings.
You may have noticed the Transfer to Bank button near the top-right portion of the page. This button is used to initiate a "payout" to your bank. You can only initiate a payout when the amount in your Current Balance is greater than $0. Please note, it takes about 7-10 days for the earnings to move from Pending Balance to Current Balance.
Got any questions? We recommend reading through our Earning Money section for additional information. Of course, please feel welcome to contact our Support team if you need more in-depth help!