Set up subscriptions so your most dedicated listeners can access exclusive bonus episodes, extended interviews, and more!
With RedCircle, you can put some of your content behind a "paywall". Listeners can gain access to content you designate as exclusive by signing up for either a monthly or yearly subscription. We'll land you revenue right into your bank account with our payments infrastructure!
Configuring Exclusive Content
Visit your podcast's page in the RedCircle web app to get started with Exclusive Content. Click on the gray box titled Exclusive Content to be taken to the payment settings page: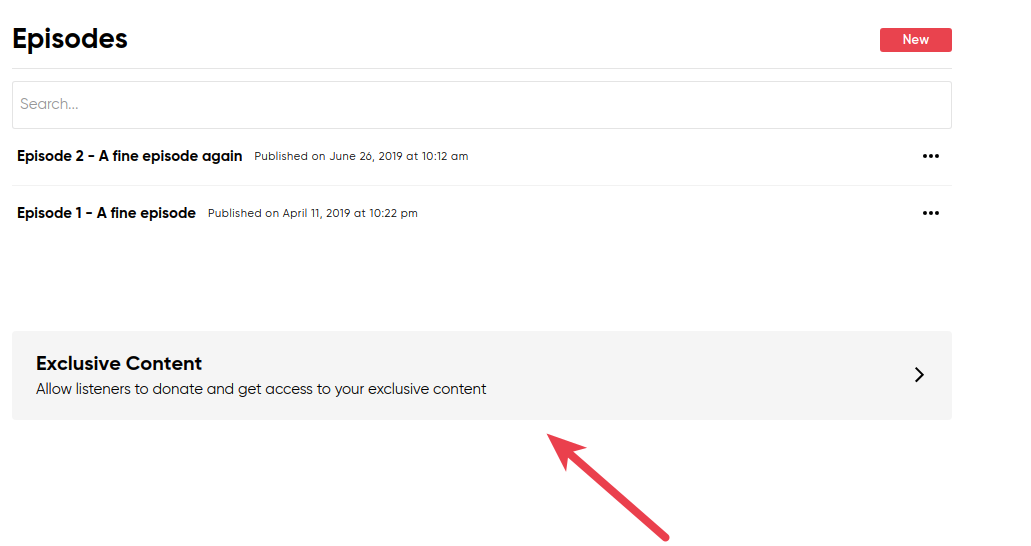 On the payment settings page, click the red button to enable Exclusive Content. Enter either a monthly amount or yearly amount that your users must pay to gain access to the content. Then enter a short summary to describe the contents of your exclusive feed.
Managing Content
Once you set up your paywall, you can designate particular episodes of your podcast as only accessible to paying subscribers. When creating a new episode, or editing an existing one, you should see a new 'Exclusive Access' section as pictured below: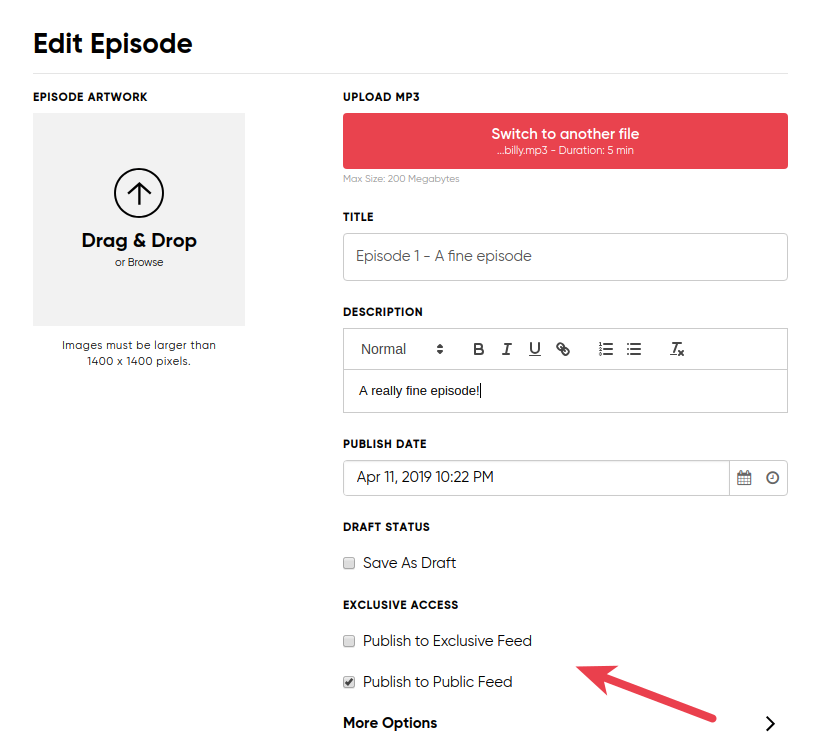 Listeners who subscribe to your Exclusive Content feed receive new and existing episodes that have 'Publish to Exclusive Feed' checked. Listeners who subscribe to your normal public feed receive any episodes that have 'Publish to Public Feed' checked. See the Exclusive Content Cookbook below for ideas about how to set up your content between your public and private feeds.
Subscribing to Exclusive Content
Once you enable Exclusive Content, RedCircle automatically adds a link to your show and episode descriptions to help your listeners find the page where they can subscribe. Listeners are prompted to enter a payment amount, their credit card information (or Apple/Google pay account), and to confirm their purchase. Once they purchase the subscription, RedCircle provides a quick 1-click button to help them access the content in most major podcast apps.
Listeners can pay more than the amount you configured for access to Exclusive Content if they're feeling generous. If the listener enters an amount that is less than the Exclusive Content minimum, then they can set up a monthly tip, but it won't give them access to the special episodes.
Understanding Fees
We founded RedCircle to help podcasters freely create, easily grow, and seamlessly monetize their work. While RedCircle does take a fee for providing the Exclusive Content feature, we want to make sure we give the most money possible to the person who deserves it most; you, the creator.
In order to process the credit card transaction, Stripe takes its standard 2.9% + $0.30 fee on each charge. In addition, RedCircle collects a 12% share of the transaction in return for providing these exclusive content tools. Stripe takes an additional $0.25 for the transfer when you cash out your balance to your bank account
Example
You have 3 subscribers at your $5 price. When you transfer them to your bank:
Subscriber 1: $5 - (2.9% of $5) - ($0.30) - (12% of 5) = $3.96
Subscriber 2: $5 - (2.9% of $5) - ($0.30) - (12% of 5) = $3.96
Subscriber 3: $5 - (2.9% of $5) - ($0.30) - (12% of 5) = $3.96
Total after Stripe fees and RedCircle share: $11.88
Total after $0.25 Stripe cash out fee: $11.63
Exclusive Content Cookbook
There are several different ways you can set up your exclusive content depending on your goals or preferences. Here are a few ways to set up this feature!
Exclusive Content Only
In this configuration, your show is designed to be totally behind a "paywall". All of your episodes are released to paying subscribers only. The best way to set this up is to create a normal RedCircle podcast with a short trailer/explainer episode that's then published to the public feed. After that, all of the future episodes should be configured to only go to the exclusive feed.
Paywalled Podcast Companion
In this configuration, you create a bunch of bonus content that goes alongside your regular content. Listeners can subscribe to both your public feed and your exclusive feed. Different content funnels into each of the feeds. For instance, if your show is an interview show and you publish all of your normal content to your public show. You then publish bonus content (e.g. extended interviews) to your private feed only.
Exclusive Backcatalog
Another way to use the Exclusive Content feature is to require listeners to pay a few dollars to access your show's back catalog. When you create new episodes, you check both the public and private feed checkboxes. Each week, you edit your episodes from a few weeks back and uncheck the checkbox for the public feed. That way, only paying users are able to go back and listen to old episodes.

There are lots of ways to use this feature and we're so excited to see what everyone comes up with! Feel free to share how you use Exclusive Content with us through social media (@getredcircle) or directly through our Support Team!