Start monetizing your podcast through advertising in RAP
The RedCircle Ad Platform (RAP) is your one-stop shop to monetize your show with advertising, all from right inside your RedCircle account. Check out this article to learn more about RAP.
Before you set up your advertising profile, make sure to set up your bank account in the Money section of your account so we know where to send the money when you get paid. At this time, you must have a bank account that can be connected to our payment provider Stripe (see International Coverage for details).
Once you've connected your bank account, go to the Ad Platform tab in the RedCircle web app and select the podcast you'd like to opt-in to the program. Then click the red Get Started button to begin.

Host-Read Ads
The first thing you need to do when setting up your profile is to indicate which types of ads you want to run on your show. RAP has a full suite of advertising opportunities which includes both "Host-Read" and "Programmatic" Ads. Almost all of the shows on RAP are opted-in to both of these types.
If you want to receive Host-Read advertising offers (e.g. you give an endorsement of the product and record the ad in your own voice), then keep the "Host-Read Ads" box checked. Don't worry, the brand provides you with a script or talking points for these types of ads.
Rates
Next, you need to indicate the rates you wish to charge for these Host-Read Ads. As pricing can be quite tricky, we pre-fill suggested CPM rates that we think are reasonable for your podcast's size. We also automatically calculate your Spot Rate for you as a function of your CPM rates. If you're an advanced podcaster that wants to edit your rates, then check out this Guide to Setting Host-Read Ad Rates.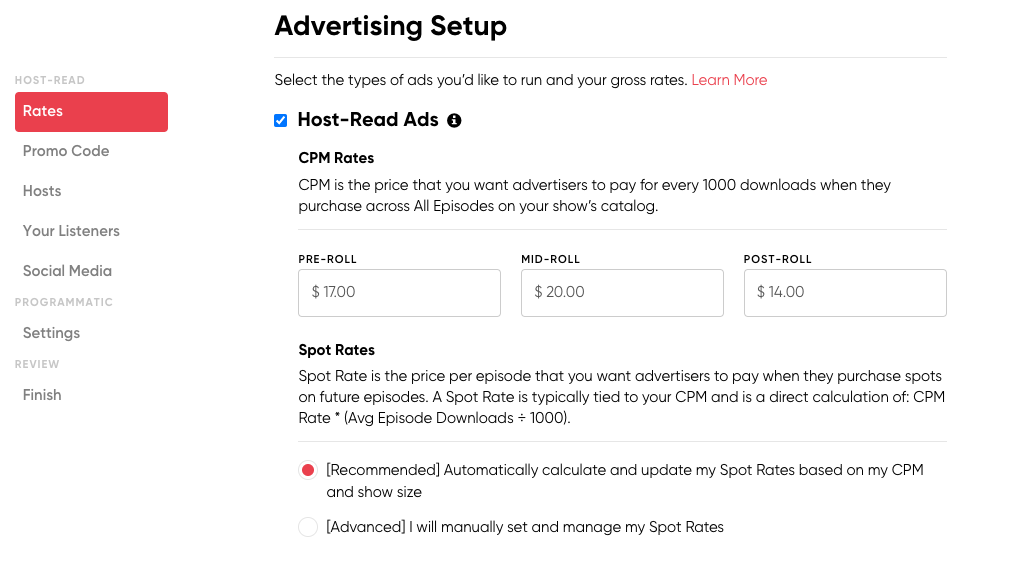 Promo Code
It's common that brands want each show that they advertise on to incorporate a unique code into their ad read as either a promo code or at the end of a vanity URL. Orders purchased using that promo code or vanity URL can be tracked back to your show. Thus, letting the brand know just how well their ad performed.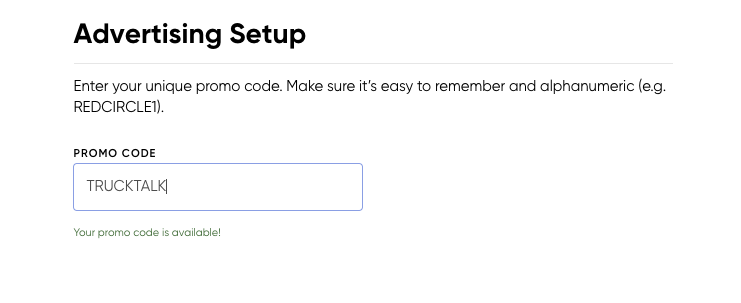 Choose a promo code for your show that is easy for your listeners to remember. For instance, if your podcast is called 'The Truck Talk Show,' you might choose TRUCKTALK as your code.
Hosts
Tell advertisers the names of all of the hosts on your podcast. This allows for the brand to better understand your show and the people behind it. Be sure to also add mailing addresses here so brands can mail you free product samples before you record your endorsement.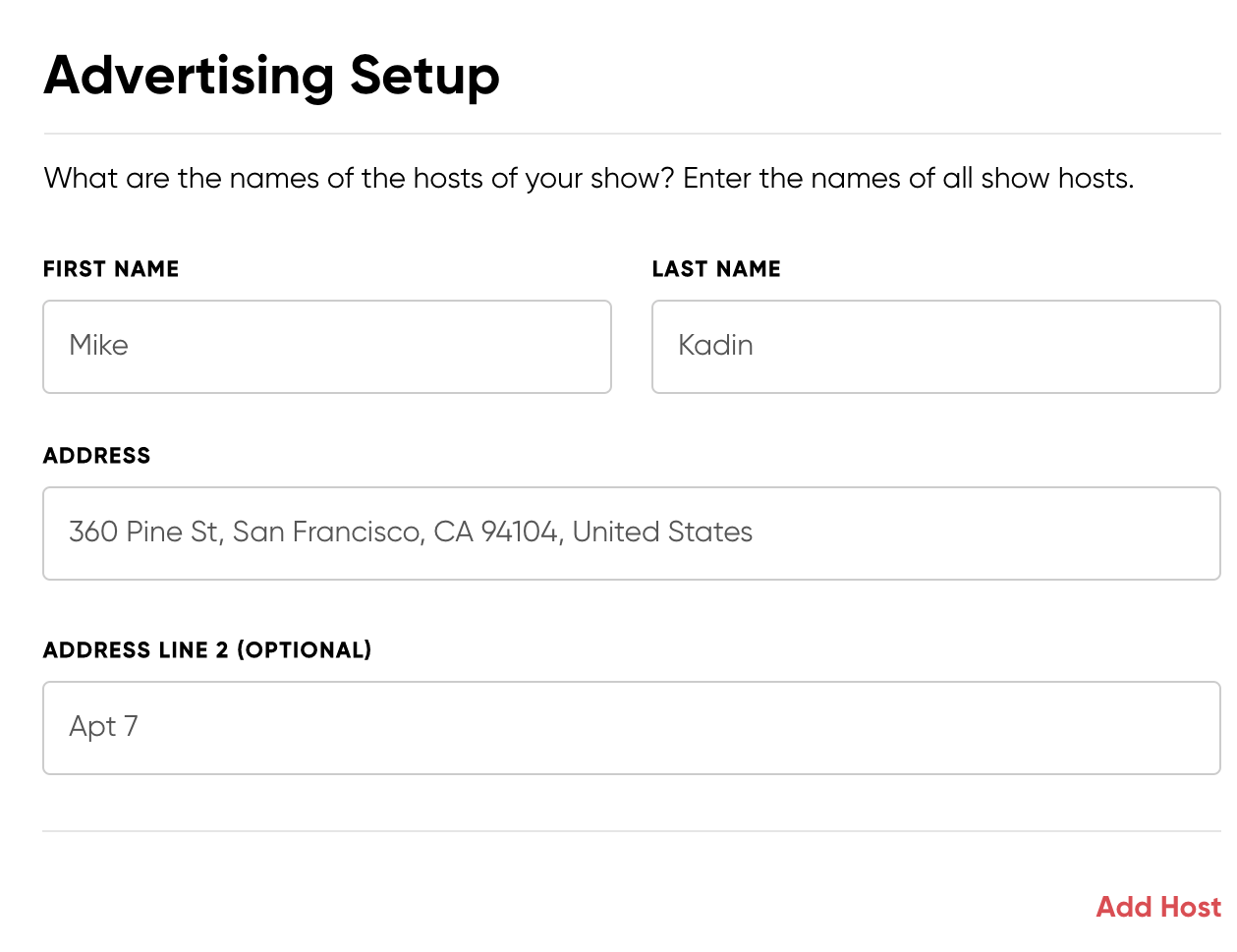 Note: The only time we provide your mailing address to a brand is if they indicated that they will be shipping product samples and your show has accepted the campaign offer.
Your Listeners
Adding your listener demographics to your profile is crucial. This is one of the most important pieces of information that a brand uses to determine if your show is the right "fit" for its target audience. You can find the breakdown of your listeners' demographics by going into your Spotify for Podcasters account and clicking on the "Audience" page. Change the filter to "All time" and scroll down to the Gender and Age sections. If for some reason you don't have access to a Spotify for Podcaster's account, then we recommend giving the brand the best guess to start. You can always come back later to edit your profile.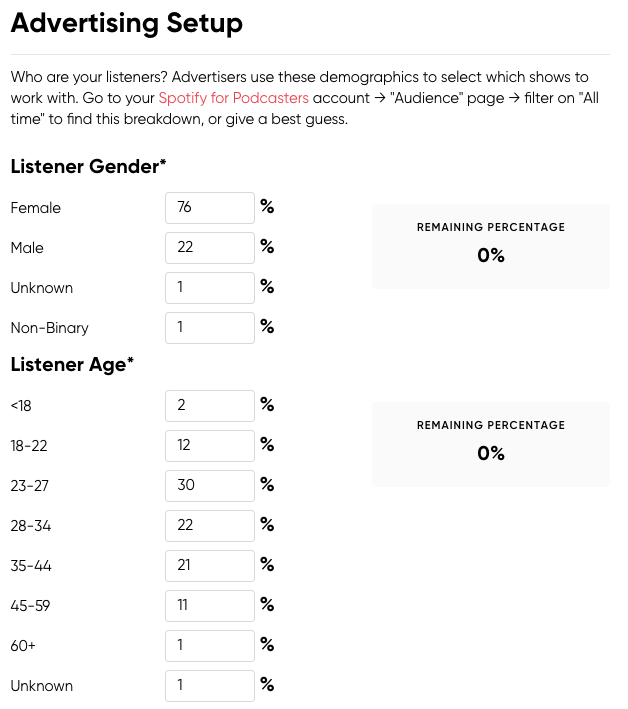 Social Media
Include links to social media accounts. You can use your own personal accounts or accounts you created for your podcast. Providing this information helps advertisers understand your audience and influence. It's best to choose the accounts that are most active/have the most engaged audiences.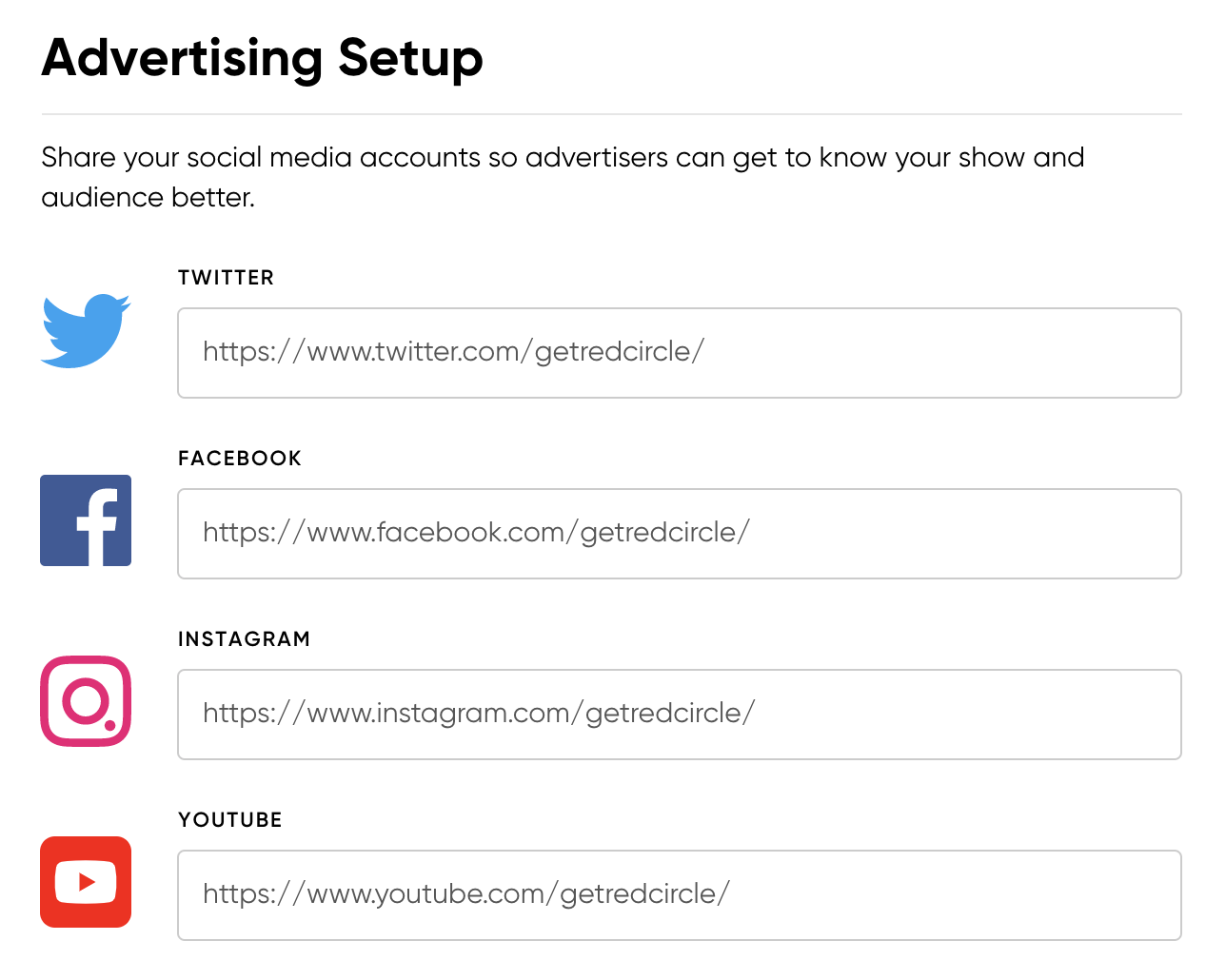 Programmatic Ads
If you'd like to run Programmatic Ads on your show (e.g. targeted ads that are pre-recorded), then keep the "Programmatic Ads" box checked.
Settings
There are a few things to help you customize Programmatic Ads and make them as targeted as possible:
Your show's primary category
We pre-fill your show's primary category based on what you have listed in your podcast settings. So, be sure what is showing up is correct! Your primary category helps brands to target their ad to their ideal audience.
Ad categories you'd like to EXCLUDE
You may be able to exclude ad categories depending on your Account Plan. Excluding specific categories prevents certain ads from playing. To do this, select the categories you want to exclude from the exclusion list dropdown. For example, say you don't want political ads running. Simply mark "Politics" as one of your exclusions.
Note: Regardless of your Account Plan, there are a handful of categories that we universally exclude for everybody like "Non-Standard Content".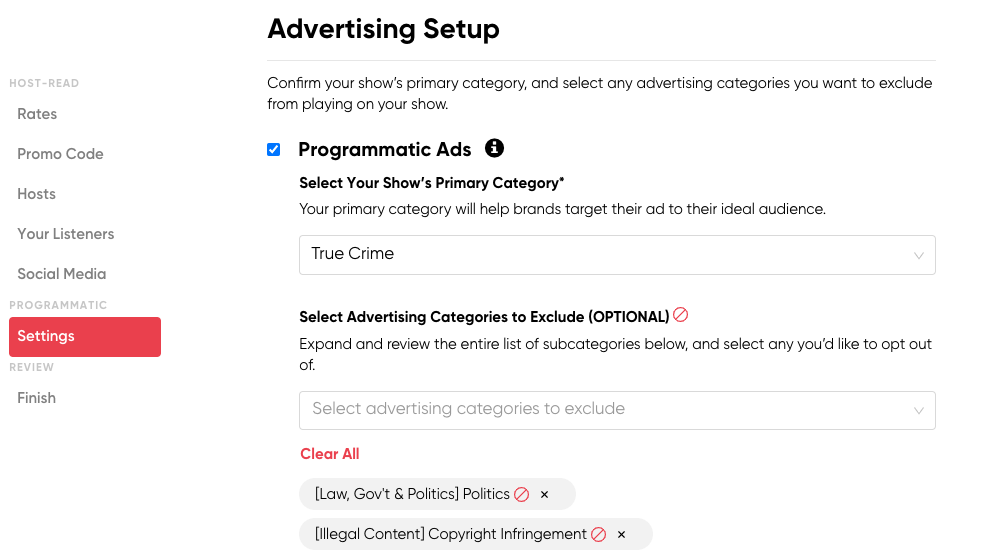 Programmatic Ad Positions
We use a Default Ad Block Audio Block to insert both Host-Read and Programmatic Ads. By default, we insert these audio blocks in pre-roll, mid-roll, and post-roll insertion points to maximize your revenue (which you can learn more about here. If you don't want Programmatic Ads running in all positions, then you may be able to toggle positions on/off depending on your Account Plan. Note that turning positions off, especially the mid-roll, may significantly reduce your revenue.

Finalizing Your Settings
And that's it! You can save the details and agree to join the RedCircle Ad Platform (RAP) once you filled out your show's advertising profile. By opting in, you agree to allow us to share your show's advertising profile information with prospective advertisers so they can find your show and invite you to their campaigns. You also agree to allow for links to be added to your episode notes for brand and listener information.
If you ever want to update your advertising profile, like updating your CPM rates, then go to the Ad Platform page on RedCircle. From there, click on the show and then select Edit Profile on the top-right side of the page.
What Happens Next?
Insertion Points
Our RedCircle Ad Platform (RAP) utilizes our dynamic insertion technology for all ads that come through the platform.
Once you opt-in to RAP, we automatically create an Audio Block for ads called "Default Ad Block". This block is assigned to pre-roll and post-roll insertion points across your back catalog. You can always click into your past episodes to update insertion points for individual episodes.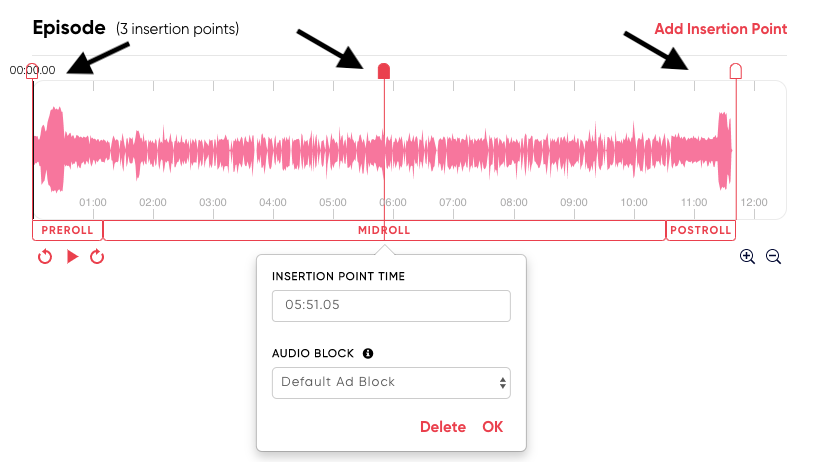 When you upload a new episode, we automatically add "Default Ad Block" insertion points to your pre-roll, post-roll, and to your mid-roll in the middle of your episode at the 50% timestamp.
Note: you need to move your mid-roll insertion point to a timestamp that sounds natural for an ad break. Otherwise, the ad may cut you off in the middle of a sentence. Watch the video below to see how to move your mid-roll insertion point.
Important: Do not delete these insertion points from your episode. Doing so limits your ability to monetize your show via future advertisement deals. Learn more about dynamic insertion for RAP here.
Your RAP Dashboard
All ad information can be accessed through your RAP Dashboard. To get there, click Ad Platform from the list of options on the left. If you have more than one show on your account, then you first need to click on the desired show. If you opted into Programmatic Ads, you should see your running total of Programmatic Earnings at the top of your dashboard. If you opted into Host-Read Ads, then all your campaign offers also appear on this page.